Over the past 6 months we have noticed a steady increase in enquiries and orders for electric locking requirements and solutions.  The impression we get from discussions with our customers is that they appear to have a greater awareness of the differences in quality between our products and others that are available in the market place.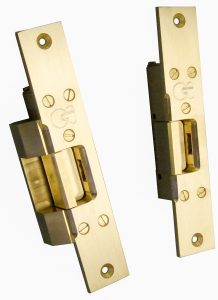 Our range of electric releases, solenoid bolts and gate locks are very highly regarded within the industry and have  a  reputation for design, robustness and longevity. For the quality of product on offer, our prices are extremely competitive with entry level products like the 913 for mortice night latches starting at just £135.
Our products are compatible  with most leading suppliers of locks for dead bolts, night latches and rim locks, all of which can withstand strengths from around 500Kg up to 2,000Kg.
We also offer a comprehensive compatibility chart on our website together with sizing detail forms (your lock and your door) that can be completed and emailed back to us if more information is required.
Most of our products are available from stock or can be manufactured with very short lead times. They can be purchased directly from us – payment can be made by bank transfer or most debit/credit cards. We  are also happy to offer credit facilities subject to the usual checks.
If you are worried about the security of your assets, you will be delighted with the quality of our products.
Send us an E mail or ring 01722 323451 to discuss your requirements further.