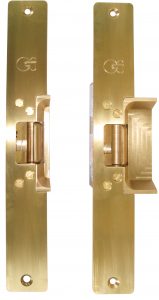 After several years, our customer turned to us for another set of customised electric releases requiring a quality brass finish in all respects for one of their prestigious customers. Every door tells a different story as the brass lead in plates are all made to measure and are therefore of different lengths.
Our 960 range of electric releases is the base design for the customised product. With brass face plates and latch blocks instead of steel, the end result has a quality brass finish, which is aesthetically pleasing: ideal for historic buildings.
The 960, which withstands 7Kn of force, meets our the clients criteria for robustness, reliability and longevity.
Being an agile manufacturing company our technical department was able to work closely with the client based in Oxford to make certain each individual release was designed and matched to the required drawings of the individual doors.
This was then passed to our factory where our highly trained manufacturing division worked out the easiest and most efficient way to complete the order to meet the customer's specification: Both on time and within budget.
So, if you take security seriously and have a bespoke or standard requirement, we would like to hear from you.
For more information on our products and services send us an E mail or ring 01722 323451 to discuss your requirements further.